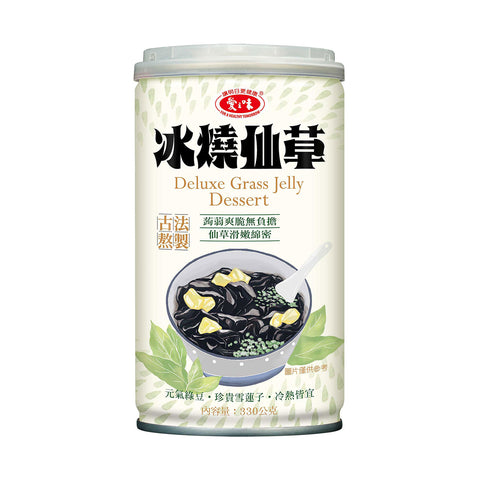 Iced Sweet Soup with Grass Jelly (冰燒仙草)
A significant breakthrough in extraction and preservation technology! The grass jelly is smooth and sweet. The newest extracting and preserving technology is adopted to perfectly store grass jelly in a package that can be stored in room temperature. Besides, the technology also further improves the taste of grass jelly. Now, you can have the delicious and smooth grass jelly at any time, any place, and anywhere.
The "Iced Sweet Soup with Grass Jelly", the kind of sweet grass jelly soup product is also good for summer seasons. With smooth and tender grass jelly, nice and chewy konjac crystal noodles, mung beans and Chinese chickpeas, it is refreshing and is able to reduce the internal pathogenic fire. This is truly the cool grass jelly soup product for you to enjoy in summer.
The best refreshing dessert in summer. Not only can it satisfy the dessert-wanting desire, but also can create a sense of satiety.
Package: 340 ml x 24 cans
[一] 萃取保存技術大突破、仙草滑嫩香甜! 運用最新高科技萃取保存技術,將仙草完美的保存在常溫包裝中,並使口感再提升,不限時間、地點,隨時隨地都可吃到可口、滑嫩的仙草!
[二] 夏天也可以吃的「冰的燒仙草」! 仙草滑嫩綿密,蒟蒻粉條爽脆又有Q度,再加綠豆及雪蓮子,口感清爽降火,真正是夏天也可以吃的「冰的燒仙草」!
[三] 絕佳的夏天清涼甜點! 可輕鬆滿足想吃甜點的慾望外,又可以止餓唷!
包裝: 340 毫升 x 24 罐