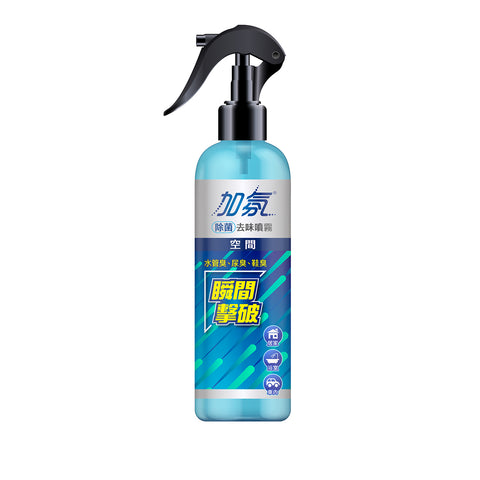 Deodorizer (加氛空間除菌噴霧)
With this product, you can disinfect the items. even get rid of bad luck, and good fragrance brings good fortune!
With 99% instant effect of disinfection, and SGS certification that proves the anti-bacterial rate can achieve 99%.
24 hous long-effect odor removal; the exclusive target-type BacShoot technology aims at the malodor-producing bacterial to attack them!
Containing natural botanical extract to deodorize.
Instantly remove the smell of smoke and BBQ, body odor, water pipe smell, urine odor, and smelly shoes.
The scope of application: Shoe cabinet, bathroom, kitchen, home space, and inside the car.
Package: 250 ml x 1 bottle
加氛一下!除菌去晦氣 加氛加好運!
99%瞬效除菌,SGS驗證抗菌率達99%
24H長效去味,獨家標靶型BacShoot技術,專門針對異味菌打擊!
天然植萃消臭,好加分!
瞬間擊破:煙味、烤肉味、體臭、水管臭、尿臭、鞋臭
空間適用範圍:鞋櫃、浴室、廚房、居家空間、車內
包裝: 250 毫升 x 1 瓶