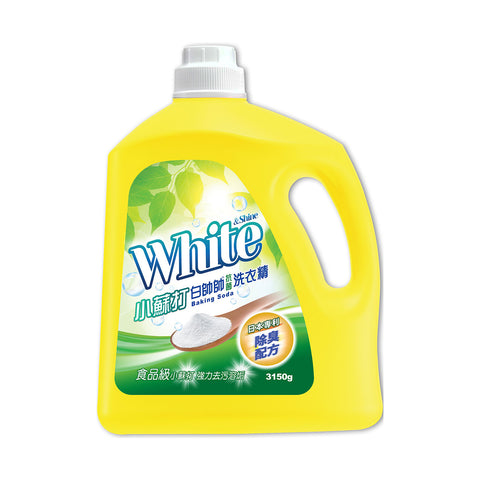 Laundry Detergent - Baking Powder (小蘇打洗衣精)
Baking Soda Fragrance
Food-graded baking soda, strong decontamination. Ultra-clean decontamination/ natural fiber protection/ effective antibacterial/ deodorant upgrade/ low foam environmental protection. Food-grade baking soda removes dirt powerfully
Extreme Cleansing
Using food-graded baking soda, removes dirt effectively, deep cleansing, and the ingredients are mild and do not hurt the skin.
Natural fiber protection
Natural palm oleyl alcohol surfactant-neutral and mild formula, protects clothes fibers, does not irritate skin, and can be decomposed by nature.
Effective antibacterial
Adding antibacterial factors can inhibit common bacteria in clothes effectively and protect the skin of whole family.
Deodorization upgrade
Adding Japanese patented natural plant deodorization factor, it can start the coating, neutralization, and decomposition functions immediately, and remove the unpleasant sweaty odour on clothes effectively.
Low foam and environmental protection
Low foam formula, suitable for upright/drum type washing machines, easy to rinse and water saving
Package: 3150 ml x 1 bottle
食品級小蘇打,強力去污溶垢極淨去污/ 天然護纖/ 有效抗菌/ 除臭升級/ 低泡環保食品級小蘇打 強力去污溶垢
極淨去污
採用食品級小蘇打,有效去污溶垢,深層潔淨,成份溫和不傷肌膚。
天然護纖
天然棕櫚油醇界面活性劑-中性溫和配方,保護衣物纖維,不刺激肌膚,可被大自然所分解。
有效抗菌
添加抗菌因子,可有效抑制衣物常見細菌,呵護全家人的肌膚健康。
除臭升級
添加日本專利天然植物除臭因子,能快速啟動包覆、中和、分解作用,有效去除衣物上難聞的汗臭異味。
低泡環保
低泡沫配方,直立式/滾筒式洗衣機均適用,好沖好洗更省水
包裝: 3150 毫升 x 1 瓶