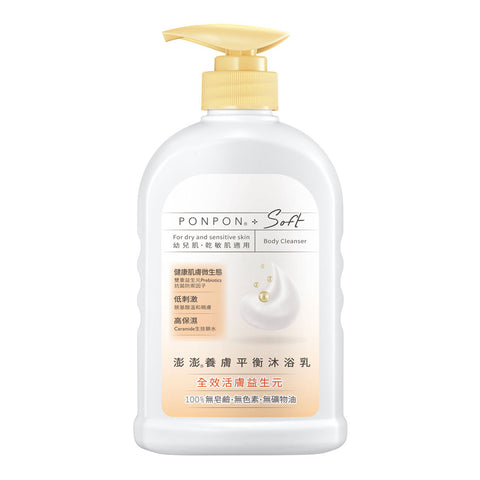 Body Cleanser-Skin-Balancing Treatment (養膚平衡沐浴乳)
Healthy Skin Microecology
Full-effect revitalizing prebiotics, Tibi yeast extract X Yogurt Powder highly active yogurt essence, balances skin microecology and healthy skin base; antibacterial factors gently condition and enhance skin defense.
Safe and skin-friendly
100% soap-free/pigment-free/mineral oil-free/Paraben.MI. MCI preservative-free, neutral and mild.
Efficient Moisturizing
Contains Ceramide, the queen of moisturizing, to regulate the skin's oil-water balance, and optimize the skin's barrier and defense. 11 kinds of amino acids provide high-performance hydration and increase the skin's moisture content. Peace of mind, low sensitivity, high moisturizing, optimized skin barrier, low irritation, Passed the international AMA hypoallergenic standard x American dermatologist & pediatrician test
Relieve dry dandruff! EU patented oatmeal soothing ingredient, soothes and repairs dry skin, desquamation, and other irritations and discomforts, and provides long-lasting moisture.
Suitable for children's skin, dry skin, sensitive skin, and normal skin!
Package: 600 ml x1 bottle
健康肌膚微生態
全效活膚益生元,Tibi酵母萃取 X Yogurt Powder高活性優酪精華,平衡肌膚微生態、健康肌底;抗菌因子溫和調理,提升肌膚防禦力。
安心親膚
100%無皂鹼/無色素/無礦物油/無Paraben.MI.MCI防腐劑,中性溫和。
高效保濕
含保濕天后Ceramide賽洛美,調理肌膚油水平衡,優化肌膚屏障與防禦力。11種胺基酸高機能補水,提升肌膚涵水量。 安心低敏、高保濕 、優化肌膚屏障低刺激、!通過國際 低敏標準 x 美國皮膚科&小兒科醫生檢測
舒緩乾屑! 歐盟專利燕麥舒護成分,舒緩修護肌膚乾燥、脫屑、等刺激不適,長效水潤。
幼兒肌、乾性肌、敏感肌、一般肌膚均適用!
包裝: 600 毫升 x1 瓶