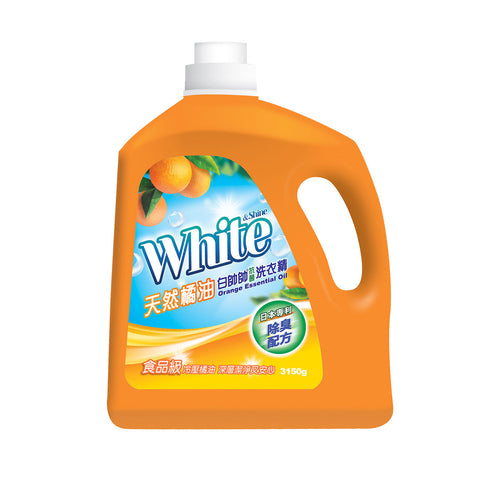 Laundry Detergent - Orange Essential Oil (橘油洗衣精)
Orange Fragrance
Food-graded cold-pressed orange oil, deep cleansing and safe to use. Neutral and mild, effective antibacteria and upgraded deodorizing. Low-foaming and environment protection/healing sage fragrance gives clean and bright effect with pleasant fragrance
Pleasant Fragrance
Contains healing orange oil fragrance, which can purify Doors effectively and exude a comfortable and heart-warming fragrance after washing.
Neutral and Mild
Formulated with natural palm oil, it won't hurt the fabric or irritate the skin, safe to use.
Clean and Bright
Cleans stubborn stains and removes dirt components Effectively, brighten the clothes at any time.
Low foam and environmental protection
Low foam formula, suitable for upright/drum type washing machines, easy to rinse and save water.
Package: 3150 ml x 1 bottle
食品級冷壓橘油 深層潔淨又安心中性溫和 有效抗菌 除臭升級 低泡環保/療癒系鼠尾草香氛潔淨亮白,馨香怡人
香氛怡人
蘊含療癒系橘油香氛,有效淨化異味,洗後散發舒適暖心香氛。
中性溫和
天然棕櫚油配方,不傷衣料,不刺激肌膚,使用更安心。
潔淨亮彩
有效洗淨頑強污漬,豔色成分阻擋髒汙,衣服隨時鮮豔亮彩。
低泡環保
低泡沫配方,直立式/滾筒式洗衣機均適用,好沖好洗更省水。
包裝: 3150 毫升 x 1 瓶