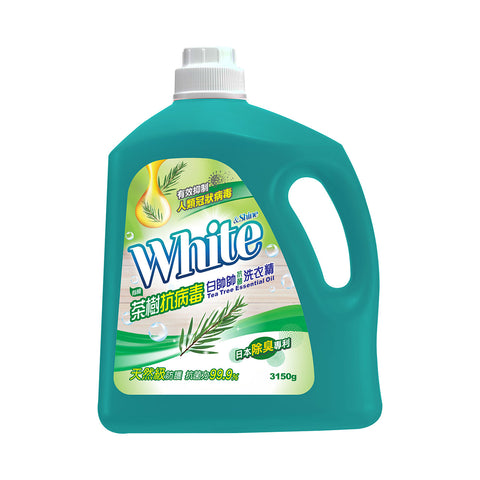 Laundry Detergent - Tea Tree (茶樹抗病毒洗衣精)
Tea Tree Fragrance
Inhibit human coronavirus effectively, natural protection, antibacterial power 99.9%!  Natural fiber protection/ effective antibacterial/ deodorant upgrade/ low foam environmental protection/ experimentally proven anti-coronavirus.
Experimentally proven anti-coronavirus
Verified by well-known university laboratories and SGS, it can effectively inhibit human coronavirus and the five major bacteria.
99.9% High Antibacterial Power
Added Australian organic tea tree essential oil and antibacterial factor.
Japanese patented long-term deodorization】
Natural plant deodorization technology covers, neutralizes and decomposes the source of clothing odour quickly, refreshing and deodorizing.
Neutral and mild fiber protection】Natural
palm oleyl alcohol surfactant protects clothing fibers, does not irritate the skin, and can be decomposed by nature.
Low-foaming, eco-friendly and easy to wash
Suitable for both upright and drum-type washing machines, easy to rinse and wash, and more water-saving.
Package: 3150 ml x 1 bottle  
有效抑制人類冠狀病毒,天然級防護,抗菌力99.9%! 經知名大學實驗室及SGS驗證,有效抑制人類冠狀病毒及五大細菌 添加澳洲有機茶樹精油、抗菌因子極淨去污/ 天然護纖/ 有效抗菌/ 除臭升級/ 低泡環保/實驗證實抗冠狀病毒有效抑制人類冠狀病毒,天然級防護,抗菌力99.9%!
實驗證實抗冠狀病毒
經知名大學實驗室及SGS驗證,有效抑制人類冠狀病毒及五大細菌。
99.9%高抗菌力
添加澳洲有機茶樹精油、抗菌因子。
日本專利長效除臭
天然植物除臭科技快速包覆、中和並分解衣物臭源,清新去味。
中性溫和保護纖維
天然棕櫚油醇界面活性劑保護衣物纖維,不刺激肌膚,能被大自然分解。
低泡環保好洗
直立/滾筒式洗衣機均適用,好沖好洗更省水。
包裝: 3150 毫升 x 1 瓶