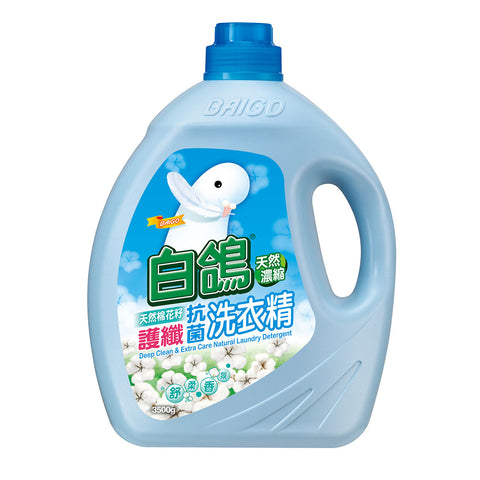 Natural Antibacterial Laundry Detergent- Cotton seed fiber protection (天然抗菌洗衣精-棉花籽護纖)
Natural Antibacterial Laundry Detergent - Cotton seed fiber protection
99% Anti-house dust mite and antibacterial rate, mild and gentle to the hands.
With natural fiber enzymes which can thoroughly remove tough stains and neutral formula which contains no fluorescent agent to protect clothing fibers and against forming of lint balls.
The breeze-like refreshing fragrance gives the family a good mood for a whole day.
Package: 3500 ml x1 bottle
白鴿 天然抗菌洗衣精-棉花籽護纖
防蹣抗菌率99% 溫和不傷手
天然纖維酵素 徹底洗淨髒污 中性配方 不含螢光劑 保護衣物纖維 避免毛球產生
微風吹拂般的清新香氛,給家人一整天好心情!
包裝: 3500 毫升 x1 瓶