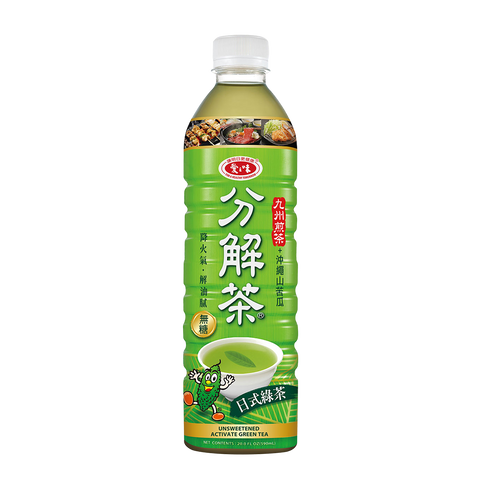 Activate GreenTea (分解茶(日式綠茶))
Detox Tea – Japanese style Green Tea" based on the strict selection of Japanese Kyushu Sencha, and incorporates the essence of tea into the tea soup with the "Tea Craftsman Steaming Jing" method, which resembles the aroma of Japanese tea ceremony. A strong refreshing and sweet Japanese flavor lingers around your mouth after every sip.
Sencha imported from Kyushu, Japan, is fragrant and sweet. 
Specially selected Taiwan tea No. 12, fully integrated with sencha, unique aroma, mellow and smooth.
No sugar, relieve greasy every after meal. 
Nutri-Grade: A
Package: 590 ml x 24 bottles
「分解茶─日式綠茶」堅持嚴選日本九州煎茶,並以「茶匠蒸菁」工法將茶的精髓融入茶湯中,保有日本茶道現泡香味,清爽並具甘甜口感,喝一口就能嘗出濃厚的日本韻味。
選自日本九州進口煎茶,清香甘甜。
特選台茶12號,與煎茶完全融合, 香氣獨特,香醇順口。
無糖,無負擔,解油膩。
包裝: 590 毫升 x 24 瓶