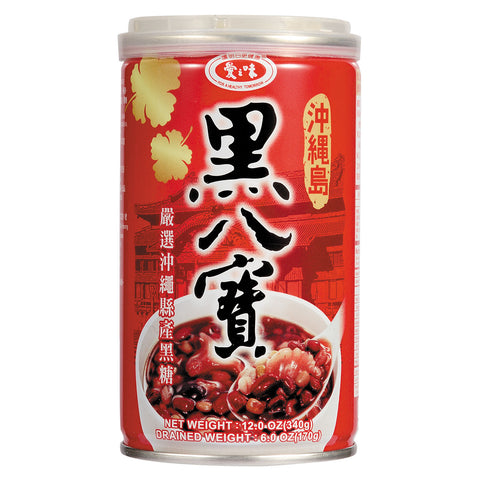 Black Eight Treasures (黑八寶)
SGD 43.20
SGD 60.00
you save SGD 16.80
Black Eight Treasure is The perfect choice of dessert made with the finest of 8 precious grains & seeds – black beans, black glutinous rice, oats, coix seed, red beans, mung beans, longan, and black sesame seeds.
With the natural sweetness of Okinawan brown sugar, Black Eight Treasure is smoothly delectable and is enough to keep you feeling satiated without the need to reach for another snack!
Obtained international SGS verification HACCP , ISO22000 , food TQF. Contains no preservatives, no artificial colours, and vegan-friendly.
Package: 340 ml x 24 cans
三黑五穀.補元氣
嚴選八種珍貴穀物-黑豆、黑糯米、燕麥、薏仁、紅豆、綠豆、桂圓、黑芝麻,保留真實的原味自然,營養價值高;並採用日本沖繩縣產黑糖,糖蜜的滋味入口即化,使得口感香醇、甜而不膩。
獲得國際SGS驗證HACCP、ISO22000、食品TQF
不添加防腐劑、不添加人工色素,純素
5星級甜點DIY-創意吃法‧輕鬆上桌
涼夏八寶冰,盛夏時節,將刨好的清冰倒入一罐愛之味黑八寶,立即清涼可食。
包裝: 340 毫升 x 24 罐