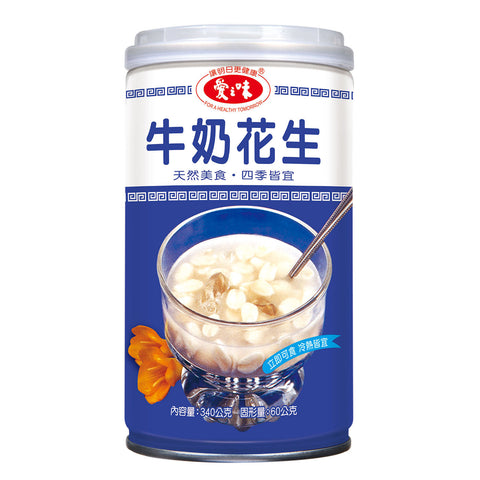 Peanut Milk Soup (牛奶花生)
SGD 43.20
SGD 60.00
you save SGD 16.80
Protein-rich goodness in a dessert – what more could you ask for! The classic traditional taste from more than 30 years is not missed, coupled with a rich, milky aroma to complete your after-dinner snack!
The best of Taiwanese grown peanuts are used in creating your favourite dessert its freshness, taste and aroma. Each peanut is selected using computerized technology of standardization, and is processed for it to be light and smooth for your dessert.
Peanuts are rich in fatty acids of Omega-6 and fibre which helps your digestion. It is also naturally rich in plant-based protein. Thus you are going to be enjoying a guilt-free dessert, no worries!
Package: 340 ml x 24 cans 
嚴選新鮮度最佳、口味及香氣最好的台灣本產花生,追求做出品質最好的牛奶花生,每顆花生都經由電腦嚴格篩選,確保品質;獨家製程技術,讓花生又綿又鬆,入口即化,加上濃郁奶香味,暢行三十多年的傳統經典好滋味,是飯後點心的好選擇。
獲得國際SGS驗證HACCP、ISO22000、食品TQF、CAS優良農產品認證
不添加防腐劑、不添加人工色素,奶素可食
包裝: 340 毫升 x 24 罐